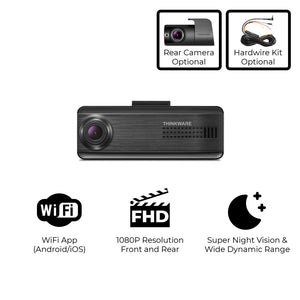 Thinkware F200 Pro Dash Cam
Regular price $189.99 Sale
The Thinkware F200 Pro fills the gap between the entry level Thinkware FA200 and Q800 Pro. It addresses the FA200's shortcoming in terms of the rear camera video quality as this model now offers 1080P and enhanced night vision. It's not quite at the level of the Q800 Pro with its Sony sensors and 2K resolution but the F200 Pro offers a practical level of video quality with reasonable file sizes and download speeds. It does not have built-in GPS but an optional accessory is available to add speed display, safety camera alerts, and other Advanced Driver Assistance Systems. 

Pair the F200 Pro with a battery pack like the Thinkware iVolt and you can expect over 20 hours of parking recording on a full charge. You can also utilize the energy saving parking mode (impact trigger only) which further increases parking recording times.
Deals
For the best value with the Thinkware FA200 check out our specials:
Specs
1080P Full HD Front and Rear Dash Cam

Super Night Vision (*In Parking Mode)
Optional GPS and 1080P Rear Camera available for additional cost
Built-in voltage detection and timer cutoff when paired with Thinkware hardwire kit (TWA-SH)
Super capacitor based power supply for safe and reliable operation
32GB Micro SD Card Included, supports up to 256GB.