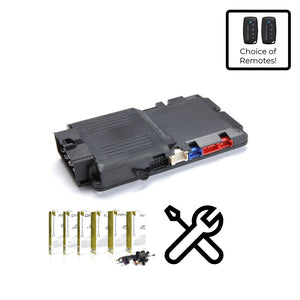 iDatastart Remote Starter Install Special
Regular price $500.00 $470.00 Sale
Save on the best remote starters in the industry with your choice of remotes and T-harnesses, installation included. iDatastart works with many different makes of vehicles and has an extensive coverage list you can find by inputting your car here. For push-to-start (PTS) vehicles, double-check for secure takeover compatibility. 
Contact us for vehicle compatibility, parts availability, and scheduling! 
Choice of iDatastart HC Series Controller:
iDatastart HCX000A Convenient remote starter which uses the factory fob button (press lock button 3x to start) 
iDatastart HC1151A Adds a pair of long range 1-way FM remotes (up to 3000' range) to the system
iDatastart HC2352AC Adds a pair of 2-way FM remotes (up to 3000' range) with vehicle status confirmation
iDatastart T-Harness Kits
iDatastart T-Harness kits help to save significant labour costs and simplify installation by reducing the need for analog hardwired connections). Check out vehicle coverage by clicking the links below.