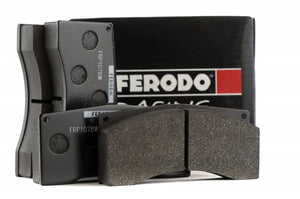 Ferodo DS2500 Brake Pads for BMW
Regular price $600.00 Sale
FEATURES

Popular dual purpose street & sport pad
Moderately high bite and solid fade resistance of a track pad, with relatively low dust and noise levels of a street pad.
When used as a street pad, it can produce some squeal on certain vehicle platforms. If you drive aggressively on the street, do some canyon runs, autocross, and maybe some light track duty of street tires, the DS2500 is tough to beat.
FITMENT

FCP4611H (Front)
F2X 2 Series (M-Sport package)
F44 2 Gran Coupe (M-Sport package)
F3X 3/4 Series (M-Sport package)
F87 M2 (excl. Competition)
F8X M3/M4

i8
FCP4663H (Rear)
F2X 2 Series (M-Sport package)
F3X 3/4 Series (M-Sport package)
F87 M2 (excl. Competition)
F8X M3/M4
FCP4712H (Front)
F87 M2 Competition
F10/F18 M5 (Non-CCB)
F12/F13 M6 (Non-CCB)
FCP1281H (Rear)