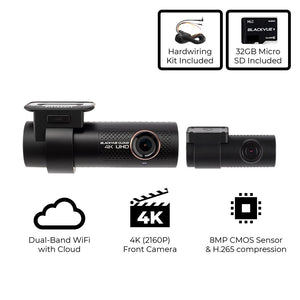 *FREE HARDWIRE KIT* Blackvue DR900X-2CH Plus Bundle
Regular price $589.99 Sale
This is the replacement for the best-selling 4K DR900S-2CH and DR900X-2CH. The new camera is a refinement of this dash cam and builds upon it's great video quality with better cooling, more intuitive parking mode, and other features. Because of the advanced cooling, this camera now delivers more consistent image quality than Blackvue models of before.
Deals
Specs
Blackvue DR900X-2CH Plus dash cam with parking mode hardwiring kit. Now featuring built-in voltage cutoff and parking mode settings
Top of the line dash cam from Blackvue with amazing video quality, wifi download speeds, and the best cloud feature in the industry.
Front camera records at 4K @ 30 FPS, rear camera features a Sony STARVIS sensor with 1080P @ 30 FPS
Now with improved high heat management, works at temperatures up to 80°C!
32GB Micro SD included, can take up to 256GB card
*Professional installation available for an additional charge, please call or e-mail to book installation service. Pricing varies depending on vehicle.