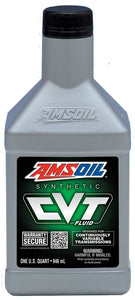 AMSOIL Synthetic CVT Fluid
Regular price $22.99 Sale
AMSOIL Synthetic CVT Fluid provides outstanding metal-to-metal frictional properties and excellent protection and performance. It is Warranty Secure and is a cost-effective, high-performance alternative to vehicle manufacturer fluids.

Field testing was conducted to compare AMSOIL Synthetic CVT Fluid and Nissan NS-2 CVT Fluid. Four vehicles (two equipped with AMSOIL CVT Fluid and two with Nissan NS-2 CVT Fluid) were driven 100,000 miles before the transmissions were torn down and inspected.
As indicated by the lack of wear in the belt and pulley photos below, AMSOIL CVT Fluid provided outstanding protection throughout the duration of the field trial, proving it is a high-quality replacement for Nissan NS-2 CVT Fluid.
In FZG wear testing (ASTM D5182), Nissan NS-2 achieved a 7 stage pass, while AMSOIL CVT Fluid significantly surpassed it with an 11 stage pass.
In the JASO LVFA Anti-Shudder Durability Test, AMSOIL CVT Fluid lasted six times longer, translating into improved anti-shudder durability and reduced noise, vibration and harshness.
Specifications
Audi/VW TL 52180, G 052 180, G 052 516
BMW 8322 0 136 376, 8322 0 429 154, EZL 799A
Daihatsu Amix CVTF-DC, CVTF-DFE
FCA, CVTF+4®, MOPAR®

 

CVT 4
Ford CVT23, CVT30, WSS-M2C933-A, Motorcraft®

 

XT-7-QCFT, MERCON®

 

C
GM DEX-CVT, CVTF I-Green2, GM CVT
Honda HMMF, HCF-2
Hyundai/Kia SP-CVT 1
Mazda CVTF 3320
Mercedes-Benz 236.20
Mini Cooper EZL 799A, ZF CVT V1
Mitsubishi DiaQueen CVTF-J1, CVTF-J4
Nissan NS-1, NS-2, NS-3
Punch EZL 799A
Shell Green 1V
Subaru e-CVTF, i-CVTF, Lineartronic®

 

CVTF, K0425Y0710, CV-30, "Certified CVTF-II (SOA427V1660), High Torque CVTF
Suzuki CVTF 3320, TC, NS-2, CVTF Green1, CVTF Green 2
Toyota/Lexus TC, FE