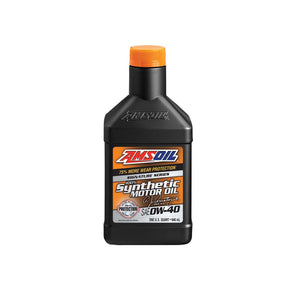 AMSOIL Signature Series 0W-40 Synthetic Motor Oil
Regular price $19.99 Sale
Engineered for enthusiasts seeking maximum protection and performance. Precision-formulated with cutting-edge technology and a longstanding devotion to making the world's best motor oil. The result: engine protection that blows the doors off the highest industry standards.
50% more cleaning power vs. AMSOIL OE Motor Oil

75% more engine protection against horsepower loss and wear than required by industry standard
Ideal for turbos & direct injection motors and preventing low-speed pre-ignition
Guaranteed protection for up to 40000km or 1 year
P/N: AZFQTC 

(1Qt, 946ml)
OE Specifications & Applications
Chrysler MS-12633, MS-10725, MS-10850

Nissan GT-R

API SP, SN PLUS
*AMSOIL Products are special order and may not always be in stock, please contact us before ordering to ensure availability or confirm ETA.