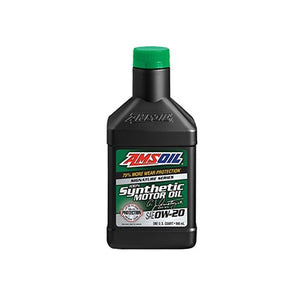 AMSOIL Signature Series 0W-20 Synthetic Motor Oil
Regular price $19.99 Sale
Signature Series Synthetic Motor Oil develops a strong fluid film that keeps metal surfaces separated while its robust anti-wear additives further reduce wear in metal-to-metal contact regions for maximum engine life. The Sequence IVA Engine Test, which must be passed to meet the API SN PLUS specification, simulates extended periods of stop-and-go driving. For 100 hours, the test engine cycles between 50 minutes of idling and 10 minutes of elevated rpm conditions that encourage engine wear. The camshaft is then measured for wear in 84 locations and an average score is determined. We used Signature Series 0W-20, the lightest viscosity in the line, to further increase the severity of the test. AMSOIL Signature Series Synthetic Motor Oil provided 75 percent more engine protection against horsepower loss and wear than required by the industry standard, extending the life of vital components like pistons and cams.
75% more engine protection against horsepower loss and wear

Protects pistons from low-speed pre-ignition
Protects turbochargers by resisting oxidation and neutralizing acids
Easier cold starts, signature series stays fluid in temperatures of -50°C and lower!
Guaranteed protection for over 40000km or 1 year

P/N: ASMQTC 

(1Qt, 946ml)
See the difference! Independent test results and comparisons that show just how impressive Signature Series oils are here.
OE Specifications & Applications
GM DEXOS 1 Gen 2
Ford WSS-M2C947-B1, WSS-M2C947-A
Chrysler MS-6395
ILSAC GF-6A, GF-5, GF-4
ACEA A1/B1
API SP, SN Plus

*AMSOIL Products are special order and may not always be in stock, please contact us before ordering to ensure availability or confirm ETA.