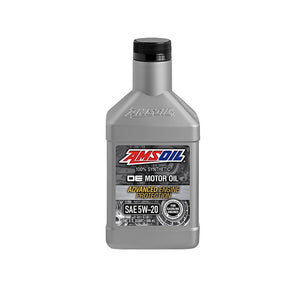 AMSOIL OE 5W-20 Synthetic Motor Oil
Regular price $12.49 Sale
OE Synthetic Motor Oil is for mechanics and drivers seeking peace of mind protection and exceptional value in synthetic motor oil. It delivers 100 percent synthetic engine protection for advanced automotive technology, including turbochargers and direct injection. OE is specifically formulated for the longer drain intervals recommended by original equipment (OE) manufacturers.
47% more wear protection than required by GM Dexos1 Gen 2 Specification

Protects pistons against low-speed pre-ignition (LSPI)
100% pure chemical structure designed to remove harmful contaminants

Improves fuel economy & maintains low emissions
P/N: OEMQTC 

(1Qt, 946ml)
OE Specifications & Applications
GM DEXOS 1 Gen 2 (supercedes LL-A-025, 6094M, and 4718M)
Ford WSS-M2C947-A, WSS-M2C930-A
Chrysler MS-6395
ACEA A1/B1

API SP, SN Plus
ILSAC GF-6A, GF-5, GF-4
*AMSOIL Products are special order and may not always be in stock, please contact us before ordering to ensure availability or confirm ETA.