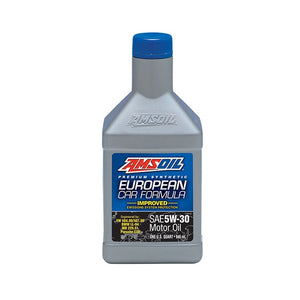 AMSOIL European Car Improved ESP 5W-30 Synthetic Motor Oil
Regular price $20.00 Sale
AMSOIL European Car Formula meets and often exceeds strict European manufacturer specifications. Its shear-stable synthetic base oils and high-quality anti-wear additives provide outstanding protection in high-temperature conditions and deliver dependable performance throughout the long drain intervals recommended by European manufacturers.
Engineered to meet European manufacturers' specifications
Superior engine cleanliness with excellent oxidation stability, heat resistance, and detergency properties.
Prevents sludge and varnish deposits, reduce oil consumption, extend engine life, and provide maximum performance
Emissions system protection using the optimal blend of SAPS

Ideal for turbos & direct injection motors
P/N: AELQTC (1Qt, 946ml)

OE Specifications & Applications
BMW LL-04

MB 229.51
Porsche C30
Audi/VW 504 00/507 00
GM DEXOS 2
Renault 0710, 0700
Chrysler MS-11106
ACEA C3

API SN, SM
*AMSOIL Products are special order and may not always be in stock, please contact us before ordering to ensure availability or confirm ETA.